In the classical era of Ottoman medicine, surgical procedures such as phlebotomies, tooth extractions, the opening and draining of abscesses, wound dressing, and tending to fractures and dislocations were the responsibility of the surgeons. The surgeons, who underwent a master-apprentice training period, were part of the artisan class. From the 19th century onwards, surgeons who were noted for their special talents and skills among the staff who took care of wound dressing started to be awarded the status of certified surgeons in military hospitals. The surgeons who had obtained such a certification could then apply to the Mekteb-i Tıbbiye-i Şahane (Ottoman Imperial Medical School) to take a practical exam; those who passed would obtain the Küçük Cerrahlık Şehadetnâmesi (junior surgeon diploma). Those surgeons who managed to earn this diploma could also work as dentists on the side. On the other hand, the barbers, circumcisers, and people who tended to fractures and dislocations would also perform teeth extractions in addition to their official jobs. There were some workers who were not involved in medicine at all, such as blacksmiths or ironsmiths, but who would also extract teeth. Additionally, there were people that used to sell powder and ointments that they claimed could kill "tooth-decaying worms" and others who claimed they could cure toothaches with hijama (cupping therapy) or bloodletting with medicinal leeches. Hacı Ömer Efendi, who used to work as a second-hand bookseller, announced in a newspaper that he could fix anyone's toothache for free. The circumciser Hacı Süleyman Efendi advertised in Sabah newspaper that he had invented a tool for tooth extraction.
Tooth extraction was a job specifically for the barbers. The barbers who used to extract teeth were mostly immigrants from Rumelia. They used to keep the teeth they had extracted and line them up on strings, like prayer-beads, in a place visible from outside their shops. The clever ones would write their name and the name of their shop with the teeth they had extracted on a board painted black and would also use such a design to make other kinds of signs.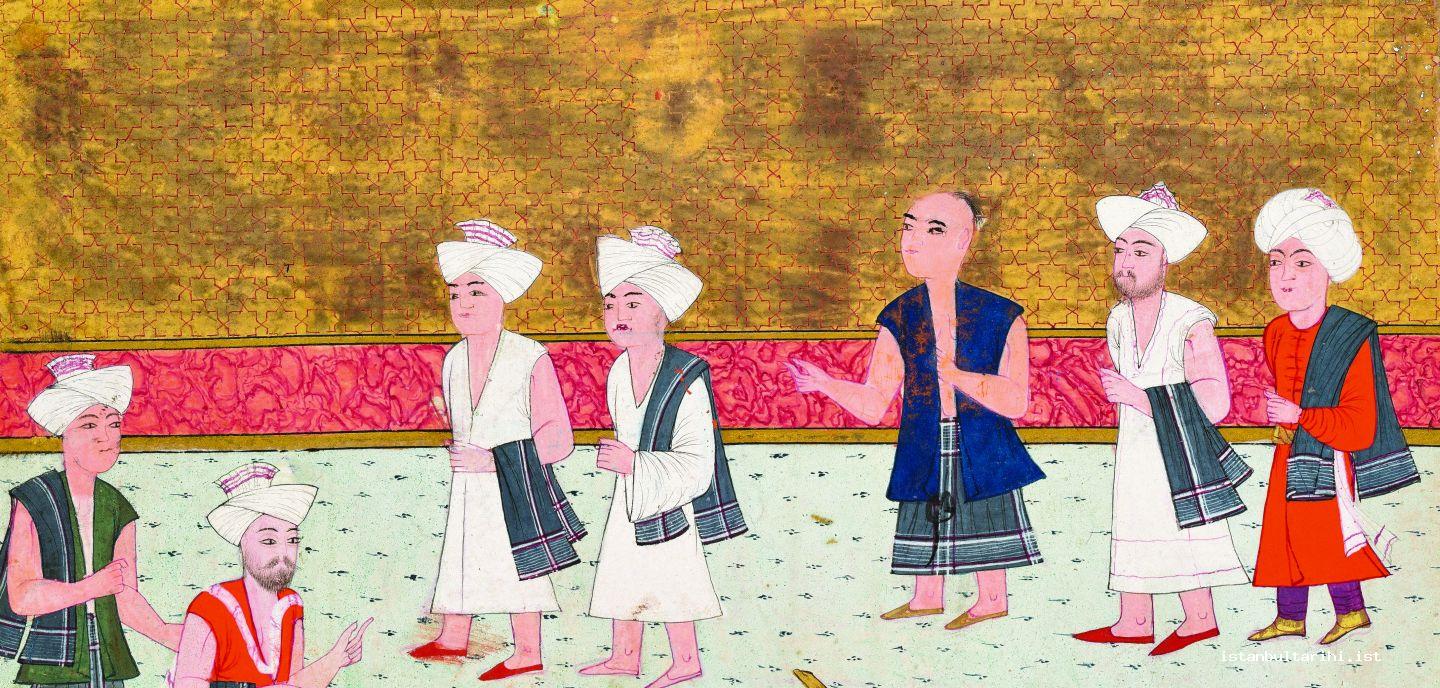 In 1840, the craftsmen who carried out medical tasks were required to take the compulsory Mekteb-i Tıbbiye-i Şahane exam; this assessed the level of their knowledge and skills. Those who passed were awarded a license, while anyone who did not take this exam would not be given authority to claim that they could perform medical operations. From this time on, all the barbers that were interested in tooth extraction started taking this exam. When the experienced barber Serkisoğlu Hacı İstefan from Erzurum arrived in Istanbul in August 1851, he was tested by the Surgeon Exam Committee at the Mekteb-i Tıbbiye-i Şahane, and having proved his skills on this exam, he was allowed to wear a badge on his fez and was given a permit for performing phlebotomies and tooth extractions. The symbol on the fez badge was a pair of pliers, the symbol for tooth extraction. People who had worked under a dentist somewhere in the Ottoman lands and had learned how to do tooth extractions would obtain a şahadetname or license proving they had learned this art from their masters and then apply to the Sublime Porte to take the exam. Those who wanted to come to Istanbul to take the exam were asked where and from whom they had learned the craft of dentistry and whether they knew Turkish; according to the information provided, the authorities would provide permits. People who passed the practical exam held at the Mekteb-i Tıbbiye-i Şahane were given a İkinci Sınıf Dişçilik İcazetnâmesi (second-class dentistry diploma). When necessary, this exam could also be given in French and German. Second-class dentist Abdülmuttalib İbrahim Efendi (1901) and Gregoire Haviaropulos, along with his son Philippos Demostheny Haviaropulos (1907), earned diplomas in this way. The second-class dentists could not use the title "dentist", but were allowed to perform the craft of dentistry throughout the Ottoman territories.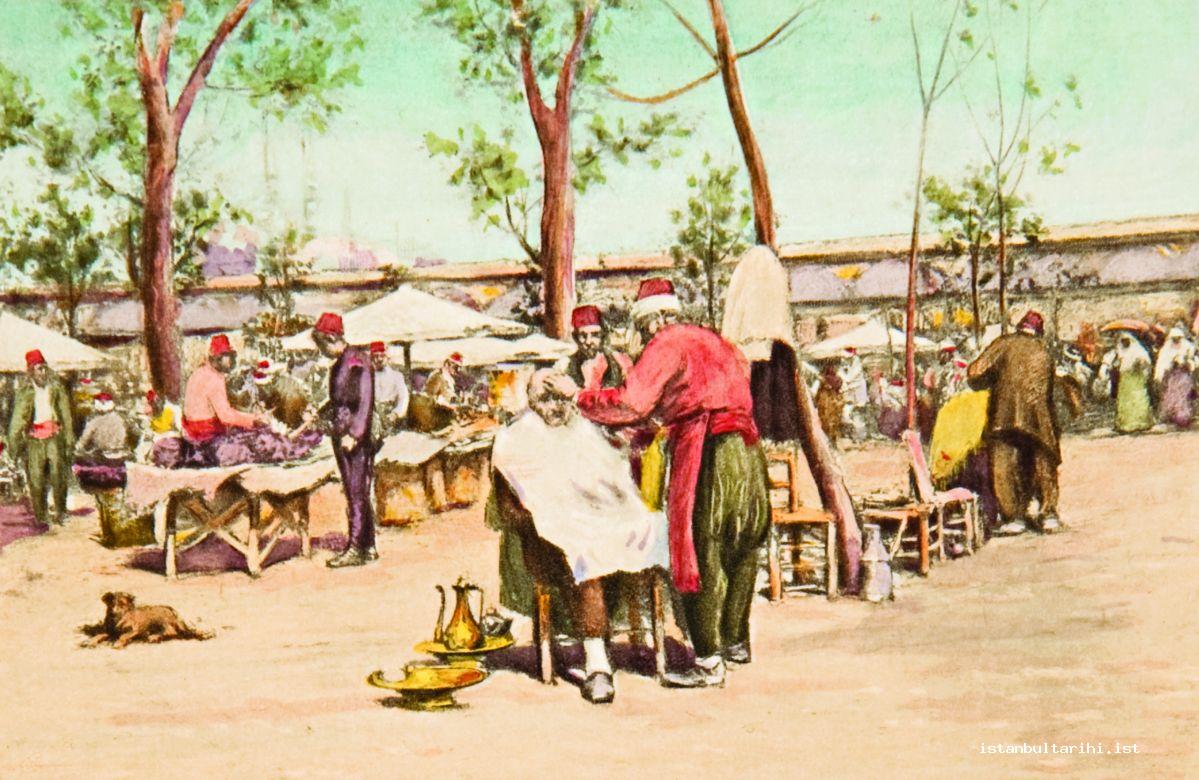 During the reign of Abdulhamid II there were also traveling dentists who would set up their tables and sell toothpaste and tooth-powder on the crowded streets of Istanbul, especially around Çarşıkapı, Sultanahmet, Yenicami Gate, the Galata Bridge and Beyazıt. These strong-jawed men would sometimes pull a tooth using pliers or a handkerchief. There were occasions when they would pull a tooth which was not aching at all. Some of them would wander through the streets of Istanbul on a small cart. They would pause to extract teeth from a person or two in the crowd to show off their skills and to prove their mastery, and then they would give the rotten teeth in their hands away for a quarter-lira. Some would not charge for the tooth extraction, but would sell dental products such as tooth powder and toothpaste. In June 1886, a Greek was wandering around in Istanbul with a small rented cart, ringing doorbells in crowded neighborhoods to gather people around him and then extracting teeth. The following day Abdulhamid II ordered this Greek banned from extracting teeth in the middle of the street and demanded that charlatans like him not be admired by the public; the minister of the police (zabtiye nazırı), Kâmil Pasha immediately commanded all the police officers to prevent these kind of people from going around and performing such acts.
Muslim Ottoman citizens were generally not very inclined to take up dentistry, just as they were also not particularly inclined towards medical science, surgery or pharmacy. These jobs were more appealing to the Jewish and Armenian Ottoman citizens and the foreigners who would come to Istanbul to earn money. When people who had earned a dentistry diploma from a foreign country wanted to work in the Ottoman State they had to apply to the School of Medicine and take the colloquium exam. Only after this required step had been fulfilled would they be allowed to pursue their career. Foreign dental surgeons typically had a good reputation.
According to the information available today, the first dentist to earn a diploma in the capital Istanbul was the Italian Rafael Kazoli; he was granted his diploma in 1820. The English dentist Monsieur Sport saw his patients in a friend's house (1847). During the reign of Sultan Abdülmecid (1839-1861), the dentist Louis Phélis came from Paris to settle down in Istanbul and accepted patients in his house in Beyoğlu. Dr. Kuhn, another dentist who had come from Paris, was known in 1867 to have tended to his patients in his house located at No. 232 İstiklal Avenue. The American Dr. Frank R. Faber, who received his diploma in 1879 in Philadelphia, started working as a dentist in 1889 in Istanbul. There are reports about the American dentist Dr. Aleksandr Haçadur accepting his patients at the Beyoğlu crossroads in 1894. Dr. Pierre Naman set up a new consulting room in Beyoğlu's Kulekapısı, and Dr. Oscar Amangas set up a new, European-style consulting room in Beyoğlu's Balıkpazarı (fish market). The German dentist George Montoriano, who had received a diploma from Berlin University, had a consultation room in Bahçekapı. The expert dentist F. Basilon's consultation room was located at Valide Han in Eminönü.
By the end of the 19th century, foreign female dentists who held bachelor degrees and permits started to set up consultation rooms in Istanbul, using the title diş tabibesi (female dentist). The female dentist Mademoiselle Hornik, who held a diploma from the Vienna School of Medicine, had a special room for female patients in her office. Then there was Dr. Madmoiselle S. Hekimian, who saw her patients in her consultation rooms in Pangaltı. The female dentist Mademoiselle Flora Valency had earned a diploma from the Mekteb-i Tıbbiye-i Şahane on January 22, 1903, and she worked as a volunteer dentist in Darülaceze. In 1905, her consultation rooms were in Meserret Han. Finally, the female dentist Mademoiselle Valenty's active dental clinic was located on Kabristan Street in Beyoğlu in the same year.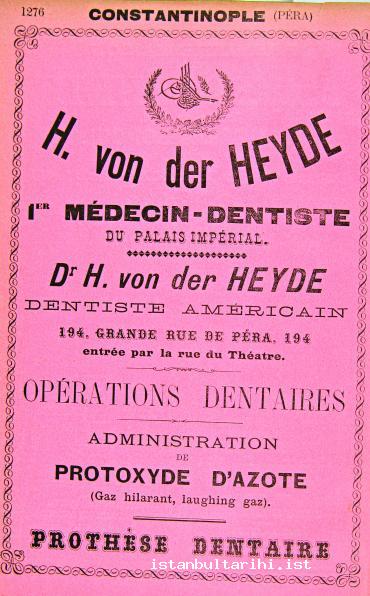 Out of the 140 dentists and dental surgeons who had their consultation rooms in Istanbul in 1915, only 6 were Muslim. This ratio changed to nearly fifty-fifty between 1925 and 1926, when 14 out of 27 offices belonged to minorities. With the 30th clause of the Tababet ve Şuabatı Sanatlarının Tarz-ı İcrasına Dair Kanun (The Law on Medical Professions Applications), which was enacted in 1928 and is still in effect, it was stipulated that dental treatments could only be carried out by graduates of the Türkiye Darülfünunu Dişçi Mektebi (Turkish Faculty of Dentistry). The 32nd clause of the same law also required that dentists who were not certified with a diploma apply to the Medical Faculty no later than three months after the law had been passed to take the required exam. After attending the School of Dentistry for a year they would take the exam and those who were successful were provided with a license. One-hundred-and-forty licensed dentists obtained permission to work in this way. The licensed dentists were not given the title diş tabibi (dental surgeon) but they were allowed to use title dişçi (dentist).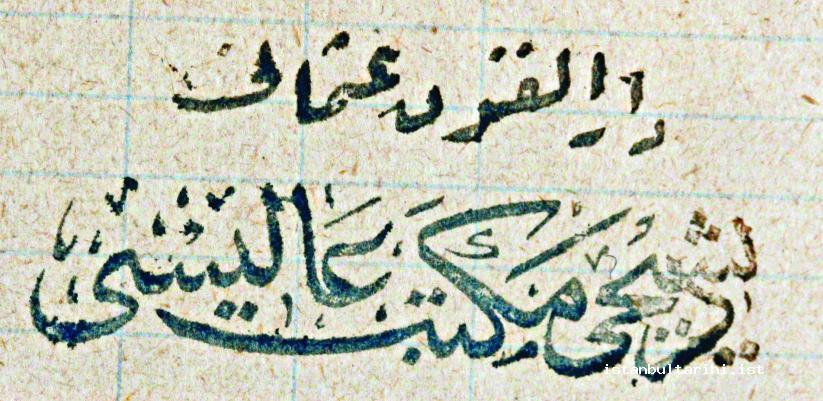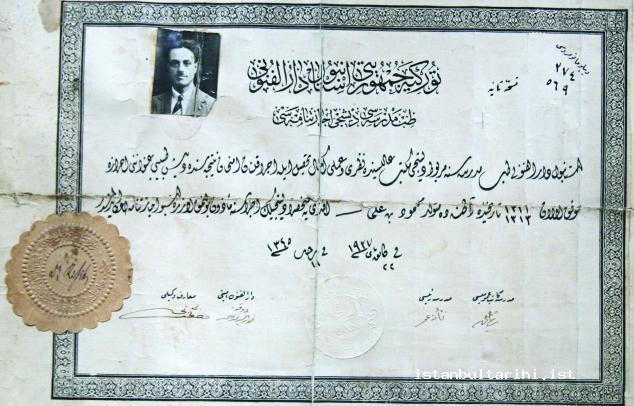 The Palace Dentists and the Chief Dentist (Dişçibaşı)
The doctors, surgeons, chemists and dentists who were responsible for examining and treating officers, government workers and members of the Harem would be present at the pharmacies in Topkapı, Dolmabahçe and Yıldız Palaces every single day. In addition to the dentists who had been promoted to the Mabeyn-i Hümayun, there were also honorary dentists that served the palace free of charge.
According to archival documents, the names of the palace dentists were: Rafael Kazoli (Italian, 1820), Oseb Dibacıoğlu (1820), Jean Seim Dorigni (Hungarian, c. 1859), Hayon (British, Order of Mecidi, 4th class, 1859), Leon Rupe (Order of Mecidi, 4th class, 1860), Pierre Roux (French, Order of Mecidi, 5th class, 1866), Dorigni Efendi (Order of Mecidi, 3rd class, 1879, junior), Yakop Efendi (retired in 1879), Haik Efendi (February 21, 1888), Jean Barry (Order of Mecidi, 4th class, 1899), Ligori Çami (Order of Mecidi, 4th class, 1888), Leon Terzian (1907), Sami Günzberg (1907), Etienne Bouchet (1911-1912), Ananian Mihran (1915-1916) and Hüseyin Talat Bey (1915-1916).
The sultan would promote those dentists who pleased him with their services to dişçibaşı (chief dentist). The dişçibaşıs were primarily responsible for the oral and dental health of the sultan. They would examine and treat the ministers and the high officials of the palace as well as those who lived in the Harem, and they could earn three times the salary of the palace dentists. After a tooth extraction, Mahmud II gave the Jewish dentist Çelebi Abraham Bivaz a house and 50,000 francs. He also promoted this dişçibaşı to the palace dentistry with a salary of 1,500 lira and granted him an Order of Glory (İftihar Nişanı). Oseb Dibacıoğlu was promoted to Dişçibaşı, with a lifetime wage of 1,000 kuruş.
The Hungarian surgeon-dentist Jean Seim Dorigny came to Istanbul in 1849, fleeing the political chaos in Europe during that era, and became an Ottoman citizen. However, because he began to exhibit behavioral disorders, he was eventually sent to an asylum near Naples in 1863. The dentist Leon Roux, a French citizen, worked as a chief dentist (dişçibaşı) at the palace for many years. His twenty years of loyalty and good service were rewarded with a rank of (rütbe-i sâlise) distinction in 1868. He was also deemed worthy of orders, a Mecidi (4th class) and an Ottoman Order (4th class). In the 1890s the American dentist H. von der Heyde, who held a diploma from Philadelphia, was the Dişçibaşı of Yıldız Palace.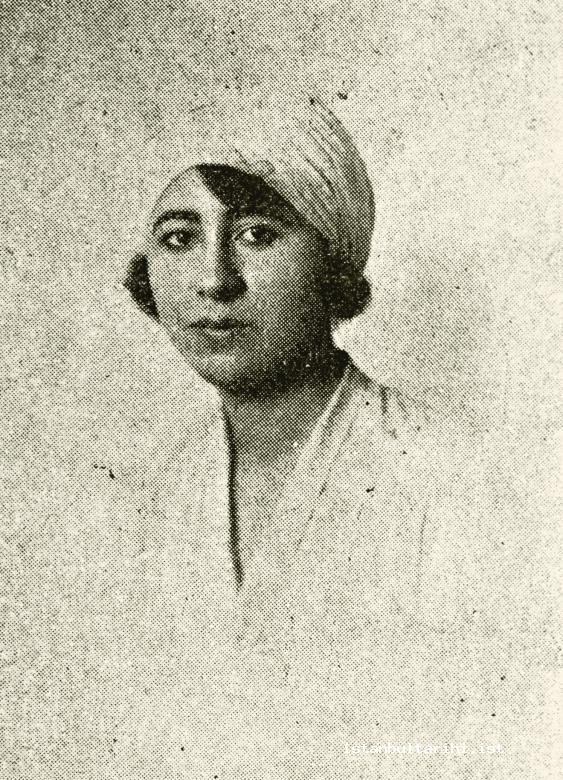 During the reign of Abdulhamid II, the dentists who worked voluntarily at the palace and military hospitals, state hospitals, darülaceze (poorhouse), and the schools two days a week were referred to as the dişçibaşı of those institutions. Those who possessed this title would have the Ottoman crest and tuğra (Ottoman calligraphic monogram or seal) of the sultan hanging over the doors of their consultation rooms; these symbols gave them commercial benefits and professional advantages. Dentists who received the title of Dişçibaşı were not related to the Dişçibaşı of the palace pharmacies who worked for a salary. The dentist Sami Günzberg received the title Dişçibaşı of Merkez Hospital in 1904 because he tended patients at the Bahariye Central Hospital once a week; he continued to use this title until the proclamation of the Turkish Republic.
Dentistry College (Dişçi Mekteb-i Âlîsi)
At the meeting of Darülfünun-ı Osmanî Tıp Fakültesi Muallimler Meclisi (Assembly of Professors of Darülfünun Medical School University) on November 22, 1908, it was decided to establish a dentistry school; a budget was prepared for its establishment. Soon the Darülfünun-ı Osmanî Pharmaceutics, Dentistry, Midwifery and Women Nursing Schools were founded. Classes started at these three schools in 1909 under the supervision of Münif Pasha. Those who wanted to become dentists were registered in the first year group along with dentists at the Dişçi Mekteb-i Âlîsi (Dentistry College), while students who already held permission certificates were registered as second year students along with the national dentists and surgeons. Due to the fact that the duration of the program was three years, the students who started in the second year group graduated on August 12, 1911 (July 30, 1327). Although school officials had wanted to give the medical title diş tabibi (dental surgeon) to these first graduates of the program, due to the reasoning of the Maarif Nezareti (ministry of education) "the Dentistry School is not a faculty, but only a school that teaches the dentistry," they were not allowed to be given this title.
In the meantime, there were no dentistry colleges in the Balkan regions of the Ottoman Empire. For this reason, there were a great number of young students from the Balkans who attended the dentistry college in Istanbul, particularly students from Bulgaria. This school soon became known as Diş Tababeti Mektebi (Medical School of Dentistry), and out of its 442 graduates, 304 were citizens of the Turkish Republic, 117 were Bulgarian citizens, and there were 21 citizens from various other countries. The two Turkish women who entered the school in the year that the Republic was established, Ayşe Şadiye and Azra Hatice, received their diplomas in 1926 and started their professional lives as the first Turkish female dentists. The name of the school was changed to Istanbul Üniversitesi Tıp Fakültesi Dişhekimliği Yüksek Okulu (Istanbul University Medical School Dentistry College) during the University Reform of 1933. The period of study was increased to four years in the following year. In July 11, 1964, the school became an independent department known as Istanbul Üniversitesi Diş Hekimliği Fakültesi (Istanbul University School of Dentistry).
BIBLIOGRAPHY
Yıldırım, Nuran, "Bilimsel Dişhekimliğinin 100. Yılında Meslek Tarihine Bakış", Türk Dişhekimleri Birliği Ajandası 1908-2008, Istanbul:Türk Dişhekimleri Birliği, 2008.
Yıldırım, Nuran, "Dünyada ve Türkiye'de Dişhekimliği Mesleğinin Öncü Kadınları", Ülkemizin İlk Dişhekimliği Okulu İstanbul Üniversitesi Dişhekimliği Fakültesi 100. Yıla Armağan, ed. Arın Namal, Öztan Öncel and Ayşegül Demirhan Erdemir, Istanbul: Nobel Tıp Kitabevleri, 2008, pp. 335-361.